Having a travel companion can make the whole journey that much more enjoyable. Whether you are going to one of our Tantra and sexuality retreats with your partner, like The Tantric Way Retreat, or going to a women's retreat with your bestie, sharing the trip with someone can make it safer, more affordable, and a lot more fun. There is nothing like loosing yourself in an unstoppable laugh with someone who knows you inside and out, about something the strangers around you would never understand when you are thousands of miles from home.
But even our Beloveds and closest friends can get on our nerves sometimes. Actually, the people closest to us tend to be the ones that trigger and challenge us the most. It is a deep blessing, because it spurs our spiritual and psychological evolution, and can be great raw material for us to work with in a personal development retreat. But it can also be too much and detract from our enjoyment of both our loved ones and the trip. If we are trying to do our inner spiritual work and yet around another person 24-7 for days or weeks, it can feel like we never have room to breathe. So how do we enjoy journeys with our loved ones without losing ourselves, missing the point of the retreat, or damaging our relationships when we were hoping to grow closer?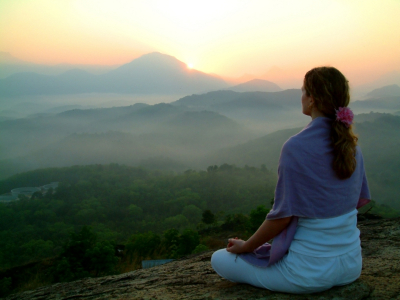 Alone First
The great task of any important ship, be it a partnership or friendship, is learning how to give each other space without bailing. How to support each other's evolution by being both in the thick of the work together, but also able to allow the other to have the room necessary for self-inquiry and individual growth.
It begins with loving yourself.
Like everything, really. The first key to a creating a quality of healthy spaciousness in your journey is self-love. If you can fall madly in love with yourself, practice self-acceptance and self-appreciation, you will be much less likely to be looking to your partner a gazillion times a day for approval and validation. You will be less likely to measure how you feel about yourself by what your partner does or does not say or do. And you will be able to show up in your interactions with everyone you encounter, including your partner, with curiosity and compassion instead of need or expectation, because you have given curiosity and compassion to yourself.
When you are traveling, find time for self-love by practicing yoga or qigong, going for walks in nature, journaling, swimming, drawing, meditating, and engaging in reflective self-inquiry. Positive affirmations and prayer are helpful, too. Commit with your travel buddy to give each other a set amount of time each day to be alone, or at least comfortably apart.
Togetherness as a Meditation
Then when you do come together with your partner or friend, be as intentional as possible. Yes, you
are seeing each other everyday. You might be sharing very cramped quarters or even a bed, living out of suitcases, and annoyed by the particular way that he brushes his teeth or how she takes forever to get dressed in the morning. But you can choose to approach each interaction as a meditation, as another opportunity to practice your mindfulness skills. 
If you truly love this person, your journey can be an opportunity to practice love as an action, something that you do as much as feel. You can treat this person with respect, appreciation, even healthy adoration, choosing to see the divine in him or her, however your day-to-day experience might be unfolding.
Traveling with a loved one can be one of the most treasured experiences of life, making both the relationship and the retreat that much more transformative and enjoyable. It can also be incredibly taxing and disheartening. But if you learn how to give each other space, cultivate self-love, and come together with intention and mutual reverence, then the journey can be elevated to an experience of spiritual adventure and healing. Then whatever happens on your retreat, your relationship will become healthier and you will be contributing to each other's lives in beneficial and uplifting ways.